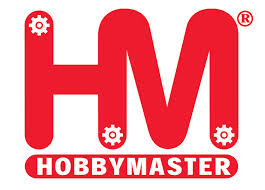 Hobby Master Tech Power Series
The M1 Abrams is a main battle tank produced in the United States. The M1 is named after General Creighton Abrams, former Army Chief of Staff and Commander of US military forces in Vietnam from 1968 to 1972. It is a well armed, heavily armored, and highly mobile tank designed for modern armored ground warfare. Notable features of the M1 Abrams include the use of a powerful gas turbine engine, the adoption of sophisticated composite armor, and separate ammunition storage in a blow-out compartment for crew safety. It is one of the heaviest tanks in service, weighing in at close to 70 tons.
The Hobby Master "Tech Power Series" range presents highly-detailed, radio-controlled military vehicles. Hobby Master "Tech Power Series" R/C vehicles feature: Diecast metal and plastic construction. Radio-controlled forward, reverse and turning operation. Manually rotating turret, elevating cannon and accurate hull. Realistic panel lines, antennas, access panels and surface details. Pad printed markings and placards that won't fade or peel like decals.
Info: M1 Abrams RC Model US Army, Operation Iraqi Freedom, 2003, (27MHz)