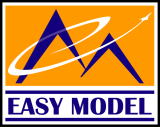 ** ONLY ONE LEFT! THIS ITEM IS NO LONGER IN PRODUCTION. **

Easy Models are detailed, plastic models are factory assembled and hand painted. Whether you're a model builder with limited time, a collector who appreciates detail, or a history buff, Easy Model fits the bill. Aircraft panel lines are delicate, rivets precise, ships and armor accurately engraved. And they are all ready for immediate display. There are hundreds to choose from including 1/35 figures, 1/72 and 1/48 planes - WWII prop driven as well as jets - 1/72 tanks, 1/700 and 1/250 warships, subs and surface vessels.
About this aircraft:
On September 26,1944, Walter Nowotny was appointed CO of Kommando Nowotny, the world's first jet fighter unit, based at Achmer and Hesepe. Kommando Nowotny became operational on the 3rd of October and claimed their first kill, a B-24, on October 7th. Nowotny began the practice of using prop-driven conventional fighters as cover against the roaming Allied fighters during the takeoffs and landings of the Me 262. The Me 262 was especially vulnerable as the turbojet's relatively low thrust resulted in slow acceleration. It took some time for the jet to get up the speed. But once there, no Allied aircraft could touch it. Adolf Galland, Luftwaffe General of Fighters, visited Achmer for an inspection. Nowotny was going to give Galland his pilot's flight reports. A flight of B-17 bombers was reported, so the unit took off, about six jets in the first wave, then another. The Fw-190Ds were waiting on the runway cover their return of the jets. Galland was in the operations shack, monitoring the pilot's radio transmissions. Several bombers were called out shot down, and Nowotny radioed that he was approaching. The flight leader on the ground, Hans Dortenmann, requested permission to take off to assist, but Nowotny said no, to wait. The defensive ant-aircraft battery opened fire on a few P-51 Mustangs that approached the field, but they were chased away. The jets were coming in. One Me-262 had been shot down, and Nowotny reported an engine failure before making a garbled transmission referring to "burning". Galland watched Nowi's approach, heard the sound of a jet engine, and saw his Me 262 A-a1 (W.Nr. 110 400) "White 8" dive vertically out of the clouds and crash at Epe, 2.5 kilometers east of Hesepe. The explosions rocked the air, and only a column of black smoke rose from behind the trees. The wreckage was Nowotny's plane. After sifting through it, the only salvageable things found were his left hand and pieces of his Diamonds decoration. The unit was disbanded shortly after Nowotny's death. It had claimed 22 aircraft with a loss of 26 Me 262s, eight of which were due to accidents and mechanical failures.

Info: Me 262A Luftwaffe Kommando Nowotny, White 8, Walter Nowotny, Achmer, Germany, 1944